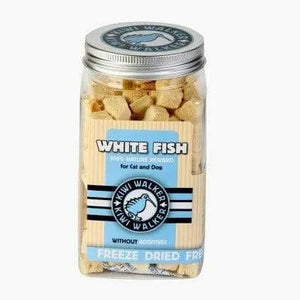 Natural treat for dogs and cats 100% freeze-dried white fish
Natural 100% freeze-dried white fish dog and cat treats
Give your dog or cat the catch of the day with healthy freeze-dried treats. Made from 100% white fish, these delicious treats prove that one ingredient can contain many benefits.
A natural source of Omega 3, they are freeze-dried instead of cooked, giving them exceptional nutritional value. Best of all, they have a delicious taste that dogs and cats will love, in a low-calorie form that won't interfere with their diet.
Designed for repetitive training, this crunchy, chewy product is a healthy treat & ideal for pet training.
Some dogs or cats love these soft. You can soften them with a little warm water.
A natural fish treat for dogs & cats.
Rich in protein and omega-3 fatty acids
100% freeze-dried white fish
No cereals, additives, artificial flavors or colors
Each treat contains only 2 calories - non fat
Ideal for dogs and cats with weight problems
This product has been freeze-dried and is suitable for BARF feeding
Square jar - 60g
They are freeze-dried rather than cooked, which preserves the taste and nutritional value of the fish.
These delicious treats are also free of added preservatives and other harmful substances. Because they are so pure, they are easy to digest.
The treats are so healthy in their ingredients that they are a pure joy for dogs! Freeze-dried ocean white fish is the only component of the recipe, freeze-drying the fish in its raw state preserves flavor, texture, freshness and nutrients.
Ideal for dogs and cats with weight problems, diabetes, allergies, gastrointestinal problems or on a restricted diet.
Composition
100% white fish
Constituents
Crude protein ≥80%. Crude fat ≥4%. Crude fiber ≤1%. Crude ash ≤12%. Moisture ≤4%.
---