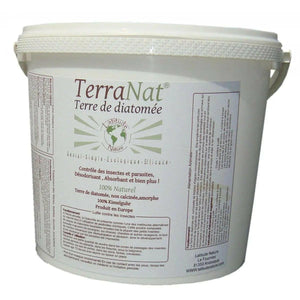 Diatomaceous Earth 1kg TerraNat
TerraNat Diatomaceous Earth is a 100% natural solution, effective, simple, good for you and the environment!
"TerraNat" is non-calcined, amorphous and food grade E551. It is therefore considered safe for humans and animals for internal and external use.
TerraNat diatomaceous earth has many virtues and applications in everyday life.
100% natural
External anti-parasite: it will naturally rid your pets of fleas, ticks, red lice etc.
As a deodorizer and absorbent, animal litter and cages
In the garden for aphids and other pests.
Non-calcined, amorphous and food grade E551
To protect grain from pests
Food supplement: it is a rich source of minerals and helps to ensure the proper growth of animals.
And many other uses!
From very sharp microscopic algae fossils, Diatomaceous Earth is an economical natural insecticide for many pests and crawling insects (ants, cockroaches, bedbugs, ticks, fleas...) that invade homes and/or animals.
Directions for use:
To combat a flea or tick infestation, brush the dog/cat back and sprinkle the diatomaceous earth. You can use a sprinkler or put it in a sock and use it like a tampon. Distribute the powder well into the animal's fleece, being careful not to scatter too much in the air. Like all powders/dust/flour, it can create respiratory problems, especially for asthmatics, irritate the eyes or the throat, but it is necessary to inhale a significant quantity. Brush the animal to spread the diatomaceous earth. Diatomaceous Earth must be dry to act externally, it ceases to act when wet, because it loses its volatility and can no longer adhere to the body of the parasite, but it recovers its effects as soon as it dries.
Renew the application every 5 to 7 days to eliminate the larvae and eggs that will have hatched in the meantime.
Composition:
100% non-calcined amorphous kieselguhr, food grade E551.
1KG
---