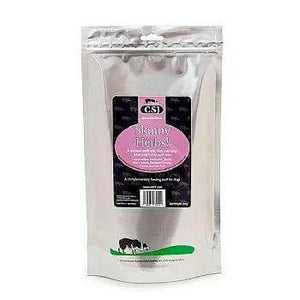 Anti Itch supplement for dogs Skinny Herbs
A natural herb mix that can help your dog's coat and skin.
Ideal for use against a wide range of allergens, including herbs, pollen and food. This makes it a simple and convenient way to relieve and prevent itching, redness and irritation.
Calms, soothes the skin and promotes the healing process. Skinny Herbs Anti-Scratch is primarily intended for dogs that suffer from skin allergies, flaky skin.
Echinacea: Strengthens the immune system. Treats inflammatory skin diseases.
Nettle: Rich in vitamins and minerals. Used in cases of scaly or dandruffy skin conditions and hair loss or apolecie patches. Contributes to the regrowth of the hair.
Neem leaves: Neem calms itching and reduces excessive secretion of sebum which manifests itself as scaly skin.
Calendula Flowers: Relieves itching and inflammation of the skin.
Thyme: Antiseptic properties.
Burdock Root: Prevents hair loss and soothes sensitive and irritated skin.
INGREDIENTS :
Echinacea, Nettle, Neem leaves, Calendula flowers, Thyme, Burdock root.
Comes in a 250g resealable foil pouch
Add to your pet's food according to its size:
For small breeds (0 to 10 kgs): ½ teaspoon
For medium breeds (11 to 20 kgs) : 1 teaspoon
For large breeds (21 to 30 kgs): 1 to 2 teaspoons
For very large breeds (31 kgs and more): 2 to 3 teaspoons
Our experience has shown that the optimal benefit of the product is obtained after 2 to 3 weeks.
It can be used from 8 weeks.
Do not give to pregnant females.
Do not exceed the indicated daily dose.
Store in a dry place and keep out of reach of children and animals.
---
We Also Recommend
---