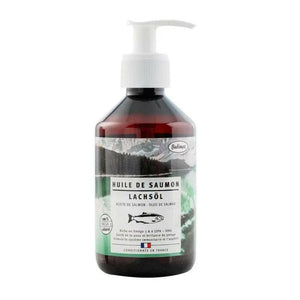 Salmon oil for cats and dogs - BUBIMEX
Salmon oil for cats and dogs is widely recognized for its beauty benefits for the skin and coat, this dietary supplement is in fact a complete source of well-being.
Rich in essential fatty acids including the famous Omega 3, EPA and DHA, salmon oil has recognized effectiveness in the following areas:
food supplement for cats and dogs with beneficial health benefits, also suitable for lactating bitches
salmon oil: rich in omega 3 & 6 fatty acids
grain-free: also suitable for allergies and food intolerances
skin and coat health: contributes to coat shine and skin health
stimulates the immune system: strengthens the natural defences
reduces age-related problems: prevents arthritis and rheumatism and reduces their symptoms
stimulates appetite: perfectly complements meals for difficult dogs or dogs with little appetite
250 ml pump-bottle
This bottle is supplied with a very practical dosing spout, which allows you to precisely dose the intake for your animal and not to waste salmon oil:
- 1 to 2 pressures per day for cats and small dogs weighing less than 6 kg
- 4 to 8 pressures per day for medium and large dogs
Administer the oil with the food
Composition:
100% salmon oil
Omega 3 and 6, more than 9%
EPA and DHA, 7%
Bon produit
Je ne peux pas donner d'avis sur le résultat. Mes chiens shih tzu et Husky apprécient beaucoup ce produit en tout cas.
---
We Also Recommend
---