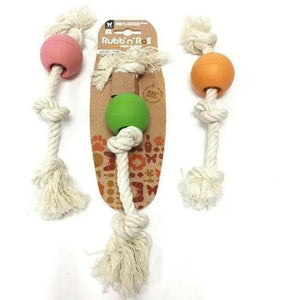 Rubb'n'rope rope ball for puppies or small dogs
Rubb'n'Roll Dog Toy Blue Bone
This dog bone prevents boredom, stress and mess in your home while you are away. It is made of 100% natural rubber. This material is recognized for its non-toxicity in the greatest respect of the health of your companion. It avoids intestinal obstructions that can occur when the dog ingests plastic or wood. You can then let your pets play safely!
100% natural toy for the animal's well-being
Avoid the risk of intestinal obstruction
Extremely resistant and malleable
100% natural rubber Biodegradable
Made in Spain
CE and FDA certified
Suitable for dogs of all sizes with medium chewing ability
2 sizes available S: 14,5 cm or M: 19 cm
Martin Sellier manufactures and markets accessories for dogs and cats that guarantee the well-being of the animal and its owner.
We all want the best for our pets. By giving Rubb'N'Roll toys to your dog, you offer them toys made of 100% natural rubber and colored with natural dyes. They are non-toxic and avoid intestinal obstruction in case of ingestion by the animal.
---